Slot3D™
Newsletter
Visualize your warehouse at work
Spring 2016
Modex Show 2016 Wrap Up
Spring 2016
Thanks to all for visiting our Modex booth. The show was filled with excitement and the atmosphere was truly a collaborative experience. We enjoyed reconnecting with some of you and we also enjoyed meeting potential new Slot3D clients. If you experienced a software demo led by Slot3D Product Manager Ken Miller, we hope you were able to take away some good information about the capabilities of Slot3D, especially the new and improved Facility Design Wizard (FDW) Module. All of your feedback and insights were very interesting and led to great conversations.
There has never been a better time to make an investment in Slot3D. Platinum Subscription and Slot3D Professional are now packaged together for an enhanced experience. Our goal is to ensure you receive timely and professional slotting expertise through effective training and support. For more info on training and support, click here.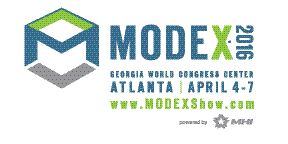 In case you missed us at the show or if you need a quick review of what the software can do for you, please view this quick video. Slot3D Software is a warehouse software solution built specifically to help you design, visualize and optimize warehouse workflow by creating a digital model of your warehouse operations. It combines unique AutoCAD® layout-specific functionality with powerful planning, visualization and analysis tools that help increase design and operational efficiency when responding to changing warehouse requirements. For additional information on Slot3D Software, please visit our website at http://www.slot3d.com
How Do You Optimize Your Warehouse?
ABC analysis was once considered an industry best practice. Certainly, it was preferable to previous practices, which barely took SKU movement into consideration. Velocity based ABC analysis is designed to slot the SKUs with higher velocity ahead of those with lower velocity.
Many have found this method to be a relatively easy one to setup using spreadsheet programs in conjunction with ever changing database information. Although using spreadsheets is a manual exercise requiring readjustment of slotted SKUs due to seasonality, new product mix, or varying demand, the results may render favorable savings, particularly if readjusted on a regular basis.
The downside of ABC analysis is that it does not take into consideration various other critical factors that apply to each SKU relative to corresponding slots. Velocity is just one of many factors critical to proper slot selection. Business and operational rules are most often also considered in SKU placement. They may include potential SKU grouping, various restrictions (crushing, Hazmat, etc.), pick/replenishment height, pick paths, and zones.
Velocity is just one of many factors critical to proper slot selection.
So, too, the costs associated with SKU placement require careful consideration prior to slotting. Often the "Picking" cost is the only issue considered in ABC analysis. Yet "Replenishment" is just as strong a factor needing to be weighed in each slotting decision. Additionally, any slots outside of the "golden zone" for picking, whether by hand, or machine, require additional factoring for the reality of the time required to pick and replenish. Of course, the slot itself has an inherent value that is often overlooked in the slotting decision.
Slot3D considers ALL of these factors for each SKU and every slot. The resulting re-slotting, or Greenfield warehouse rearrangement, assures all of these factors have been taken into consideration for every recommended SKU slotting placement. Preferable over ABC analysis, Slot3D users realize the benefits of up to date analysis, without requiring human intervention. Of course, users may still drop in new information for "what if" analysis, reslotting for new SKUs, easy drop and drag 3D rack/shelf addition for increased capacity, etc.
The key element that makes Slot3D unique is not necessarily the fact of having AutoCAD® embedded within, so the SKUs being slotted actually fit in the recommended slot. It is more so that all of the above factors are considered for the placement of every SKU to deliver the best, most cost efficient, automated results.
Slot3D is the new economically efficient industry best practice for warehouse optimization!
Looking for a Warehouse Wizard?
When most people think of slotting, they think of optimizing space and productivity in an existing warehouse. Slot3D does an excellent job of optimizing existing warehouse facilities, but it actually does much more. Not only does Slot3D assist you in visualizing your existing facility at work, but it also can help you optimize your facility, before it's even been built.
Suppose there is a circumstance where you need to design a new Greenfield Warehouse or expand an existing warehouse…
When getting started, it's critical you accurately determine the storage equipment, to be included in the design. This is the stage where Slot3D can be of valuable assistance. Slot3D has a built in utility ,called the Facility Sizing Wizard. The tool can optimally define the quantity, type, and size of all the storage equipment that should be included in your new warehouse design or expansion. Plus, Slot3D is embedded with an OEM version of AutoCAD®, which has the integrated intelligence provided by your data, making it extremely easy to create the 3D layout for the new design. You can then proceed with an optimized virtual model of your warehouse, containing the intelligence of your data.
Not only does Slot3D assist you in visualizing your existing facility at work, but it also can help you optimize your facility, before it's even been built.
Working in Slot3D provides you with a completed layout and a detailed equipment list, as well as the estimated capital expense. It may not actually be wizardry, but it is Slot3D!