Slot3D™
Professional
Visualize your warehouse at work!
For Warehouse Operators
We know your biggest challenge as a Warehouse Operator is managing a safe and accurate warehouse with the lowest operating cost possible.
The Slot3D™ Warehouse Model & Layout workflow is the most powerful tool in the industry.
Simply enter general parameters about your storage equipment and watch as Slot3D effortlessly creates an intelligent and accurate 3D digital model of your warehouse. Powered by AutoCAD®, Slot3D combines your warehouse specific workflow rules with capacity and facility layout information from the 3D virtual model to develop economic based slotting plans.
Understand the feasibility of changes in warehouse workflow and the effective cost savings strategy for implementation.
Give more attention to cost factors by studying alternative solutions on one model.
Identify workflow bottlenecks and improve throughput.
Standardize facility production increases through tested best practices.
Understand the preferred path to maximize warehouse capital investment for DBOM (Design, Build, Own, Maintain).
Simulate designs to improve the warehouse performance, rather than having to change an existing facility layout later.
Key features for Warehouse Operators
Slot3D™ Professional is an economic based slotting tool that is fully integrated with AutoCAD®, the world's leading design software program. We are here to help you visualize, simulate and analyze results to streamline warehouse workflow and reduce operating costs with…
Optimized Slotting Plans
Capacity Analysis
Space and Layout Planning
Equipment Cost / Benefit Analysis
Benchmarking
Operating Cost Analysis
Conceptual Designs
Quickly measure and design warehouse capacity. Experience the intuitive conceptual design workflow and benefit from the ability to make informed economic decisions.
3D Warehouse Model & Layout
Simply enter general parameters about your storage equipment and watch as Slot3D effortlessly creates an intelligent and accurate 3D digital model of your warehouse.
Daily Optimized Results
Designed for busy warehouse professionals that are simply looking for the "Net Result". Easily apply the optimized results produced from the Warehouse Model to your operations.
AutoSync
AutoSync powers your Slot3D™ models with business data directly from your WMS and/or ERP software systems automatically and effortlessly. (Optional Add-In)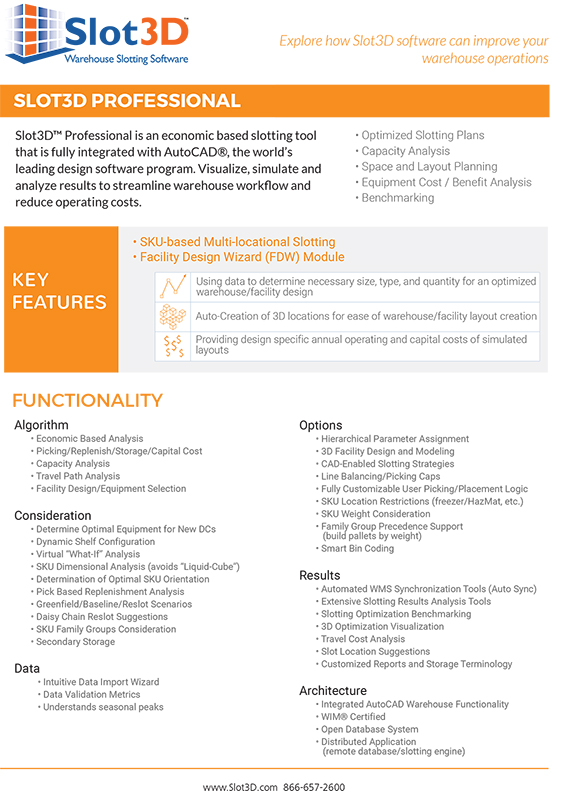 Get an In-depth look at Slot3D Functionality
Get the full list of Slot3D Professional functionality and features in a convenient PDF.
Benefits of Using Slot3D for Warehouse Operators
Slot3D™ is built specifically to help you design, visualize and optimize warehouse workflow by creating a digital model of your warehouse operations. Warehouse Owner Operators and 3PL's will be able to increase design and operational efficiency, when responding to changing warehouse requirements.
Improve order timeliness by moving product(s) to a location that minimizes travel distance across all orders
Explore consolidation of operations due to rising costs bringing all SKU's under one roof to reduce stocking and operational costs
See the impact of potential changes before implementing. Slot3D can calculate the costs and benefits before the first change is made
Reduce operational costs and increase profit by reducing travel distances for order pickers, allowing more time for the picking process
Slot3D can selectively move SKU's to a better location to accommodate seasonality issues
Create a new slotting location plan that incorporates new SKU's or product lines into an optimum location providing efficient picking
Slot3D Can reduce "stock outs" and frequent replenishment by creating unique business rules for your operation
Slot3D can reduce or eliminate extra replenishment or delay expansion by creating a profile analysis to identify different location sizes and required quantity
Explore & Validate Multiple Design Options
Design and evaluate warehouse layouts that meet storage and distribution requirements and produce the best selection of type, size, quantity and equipment.
Visualization
Visualize and simulate layouts digitally in 3D before making costly physical changes to warehouse operations. Evaluate functional aspects, explore designs in context, and efficiently communicate layout options to key stakeholders.
Increase Productivity, Decrease Costs
Optimize SKU placement to minimize storage space, picking costs and equipment procurement expenses.
Learn how Slot3D can work for you